Around of the Campsite in Dordogne.
10km from the Dordogne valley and 23km from Sarlat, Le Douzou is an ideal departure point for sightseeing :
Our campsite in Dordogne is in the immediate vicinity of the most famous tourist sites.
Sport and Nature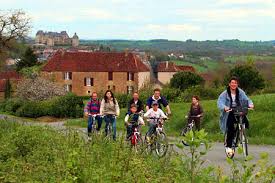 Located in the heart of the Céou valley, the Douzou is the starting point for many walks.
It is also crossed by the green way linking Castelnaud la Chapelle to L'abbaye Nouvelle in the Lot.
We are located close to many partners with whom we can put you in relation with preferential rates (canoeing, renting bicycle, golf, horse …)
The Most Beautiful Villages of France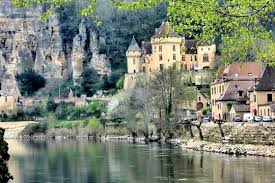 The Dordogne and its treasures: La Roque Gageac, Domme, Sarlat, Les Eyzies …
There are so many picturesque villages considered as the most beautiful in France that it is impossible to cite them all.
You will be spoiled for choice, especially since the best known are near the campsite. MORE INFORMATIONS
The Valley of the Thousand and One Castles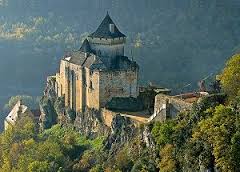 Find the most famous castles of Dordogne next to the campsite as Castelnaud, Milandes, Beynac …
These are real jewels of architecture that have been perfectly preserved and restored.
You will relive in medieval times in the days of chivalry. MORE INFORMATIONS
Caves and Chasms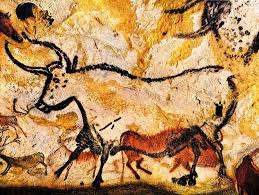 The Ornate Grottoes of Lascaux, Cougnac, the discovery of the Cro-Magon man in Les Eyzies … The Dordogne was named "the cradle of prehistory" thanks to these riches dating back 30,000 years.
But it is also a treasure of geology that is offered to you thanks to the numerous caves and chasms such as Padirac, Rouffignac, Domme … MORE INFORMATIONS
Our Good Addresses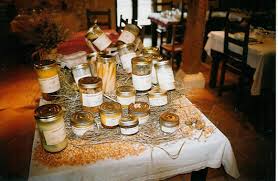 What will be the Dordogne without its gastronomy?
Farms, restaurant, local producers … Let us guide you, we know the good addresses and will share with you our favorites. MORE INFORMATIONS
Markets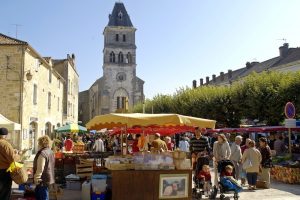 Foie gras, duck breast, strawberries, walnuts, wines …
Find the best local products in the many markets of Dordogne Périgord. MORE INFORMATIONS

Find more tourist information on the site of :
– The tourist office of Sarlat
– The tourist office Vallée Vézère