Sport and Nature in Perigord.
Your stay at Douzou, a program that is bound to be rich in discoveries …
The Dordogne Périgord offers a multitude of activities for lovers of sport and nature
Cycling of course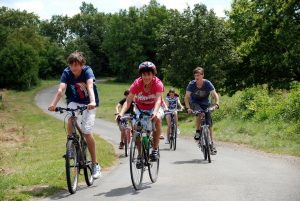 The Dordogne offers many courses and circuits for all levels. You will be able to test yourself on the famous circuit of St Pompon, set of the cup of France of VTT, of which the Douzou is partner.
But you can also simply walk around and enjoy the landscape on the green lane that runs through the campsite linking Castelnaud la Chapelle and its magnificent castle to the New Abbey in the lot.
The Camping is recommended by the French Cycling Federation. We can put you in contact with bike rental companies with preferential rates (-5%) and we provide you with maps listing all the practicable paths. MAP
Hikes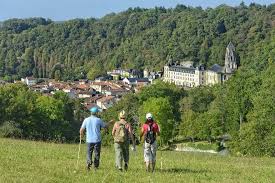 At the start of the campsite, hiking trails will allow you to discover the valley of Céou. You can go to the panoramic tower of Moncalou offering an exceptional viewpoint.
A multitude of routes for the whole family are available to you, we have maps listing all the paths.
Forests, riverside, walnut fields, ponds you will have the choice of landscape. MAP 
On Boat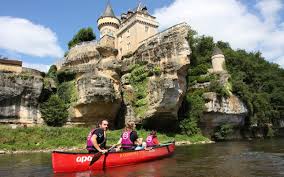 Activities for the whole family, you can discover the Périgord under a different glance while traveling on the Dordogne river in Canoe.
Quiet and safe river, we can put you in contact with our partners with preferential rates (- 10%). You will have the choice of the duration of your walk with the famous circuit of castles (Castelnaud, Beynac, Roque Gageac …)
The walks in Gabarres, large wooden boats with flat bottom, are from the Roque Gageac, near the campsite. Let yourself be guided on the Dordogne and relive the transport routes of goods as they were in the 18th century.
Horse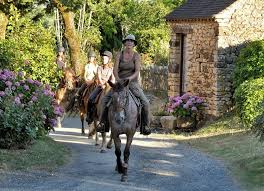 Whether at the campsite with our activity on Tuesday morning of pony rides or outside with our partners, you can make beautiful walks in the Périgord countryside.
The equestrian center run by Edwige is a few minutes from the Douzou and offers tailor-made tours for the whole family.
A multitude of activities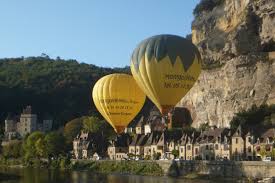 You will have the choice among many other sports and natural activities near the campsite.
Hot air balloon flight (sometimes landing in the Douzou), golf, tennis, climbing, via ferrata, tree climbing, speleology …
We will advise and guide you.
In Dordogne you have the choice:
A visit of castles, a walk in a small village, a descent into a chasm or the discovery of an exceptional terroir.