The Douzou gets the label "Camping Qualité" !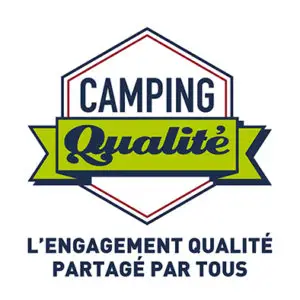 Following an anonymous and independent audit conducted by a mystery shopper, our campsite has the "Camping Qualité" label.
Judged on more than 650 criteria with a success rate of 96%, our commitment guarantees a warm welcome, quality services and impeccable cleanliness.
The quality of our campsite in Dordogne around 5 commitments :
By integrating "Camping Qualité", we are committed to respecting the quality charter around 5 areas of commitment while agreeing to submit to regular and anonymous checks.
The smile, the availability, the hospitality … We, Sébastien and Stéphanie, are the owners and managers of the Douzou.
Reception, Snack, maintenance, swimming pool … you will not have other partners than us. We will bring you special attention. Each of your questions will have its answer, each problem its solution.
Our benevolent behavior, judged so far by more than 400 reviews on the internet, will be for you the guarantee of a serene, convivial and pleasant stay.
2. The impeccable cleanliness
Hygiene and cleanliness are present in all places of the campsite. Green areas, sanitary, rental, aquatic area … are maintained, cleaned and are subject to constant monitoring.
Every remark about the cleanliness or the operation of a piece of equipment is the object of an immediate intervention.
3. Precise and true information
We provide you with clear, accurate and accurate information. Our website is accurate and complete. You will find all the necessary rates and descriptions.
No additional cost will be required. Most of our services to entertain you are free.
All the information concerning the animations, the equipment, the schedules … are at the reception, displayed in the campsite or in the booklet put at your disposal in your accommodation. 
4. Private pitch and well maintained
We put at your disposal a private location delimited by vegetation. The locations are airy and our mobile home are spaced to each other.
At Douzou we guarantee you space and tranquility. We are vigilant to noise from 23:00.
You stay in the nature (forest, riverside), our nature campsite is arranged with taste and perfectly integrated with the site and the environment.
5. The environment valued and respected
Through our eco-responsible approach, we are committed to conserving nature and the environment.
Saving energy, green energy, selective sorting of waste, landscaping … all the operation of our campsite is done in the concern of the preservation of the ecosystem.
You are an actor of the quality approach of our campsite in Dordogne. Your opinion counts and will be solicited at the end of your stay.