The black Périgord markets
Take advantage of your stay at our campsite in the Dordogne to discover all the riches of Périgourdine gastronomy. Local producers meet you every day of the year in the four corners of the Périgord Noir during magnificent and authentic markets.
Your holidays in our campsite in Périgord will be an opportunity to discover one of the tastiest terroirs in France.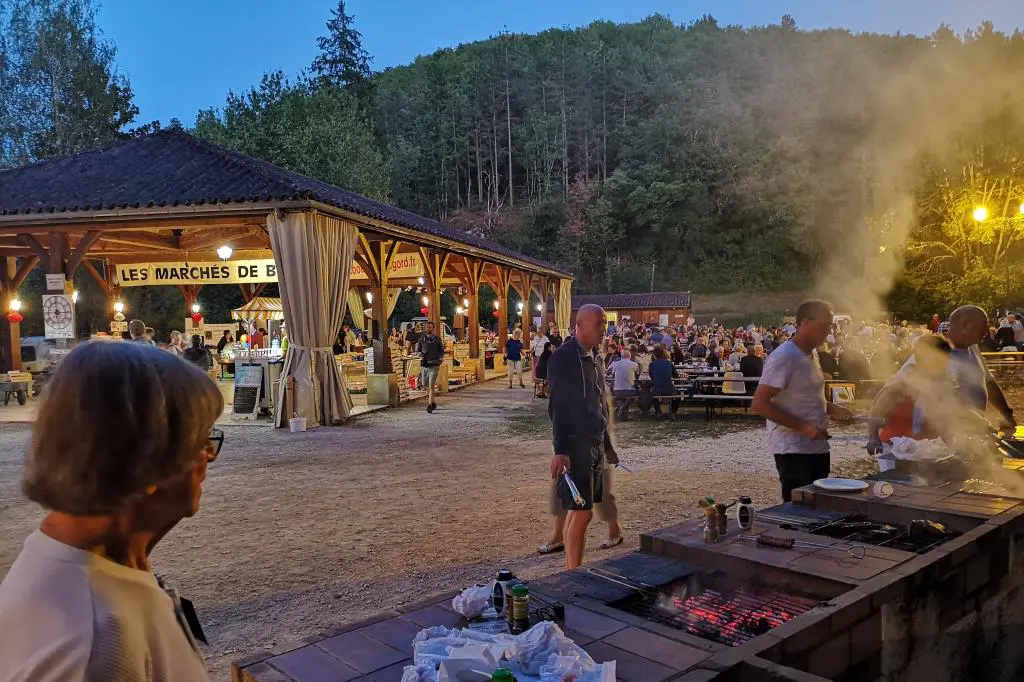 The Sarlat truffle market.
Foie gras and truffles are the flagships of Périgord gastronomy. A luxury product, the truffle, also known as the "black diamond", is highly coveted by all restaurateurs and shopkeepers in the Dordogne.
A specific market, reserved for professionals, is organized in Sarlat every Wednesday afternoon in winter under the arcades of the town hall. Very supervised and controlled, it is a time of negotiations and negotiations where prices are set according to the quality of the famous mushroom of each truffle grower.
Individuals can also treat themselves to this little culinary gem during the truffle market organized every Saturday morning from December to March.
The Périgord truffle is also celebrated during a festival every year during the 3rd weekend of January. The truffle festival is a moment of conviviality where you will be given the opportunity to taste, learn and attend culinary workshops.
A truffle and foie gras market is also organized during this weekend.
The traditional markets of Périgord Noir.
Discover the multitude of products offered by the Périgord region. Strawberries, chestnuts, foie gras, walnuts, porcini mushrooms… Local producers and workers on the land meet all gourmets in the many traditional markets of Périgord Noir.
It is also an opportunity to discover magnificent villages classified among the most beautiful in France.
Monday : Les Eyzies.
Tuesday : Cénac, Salignac, Le Bugue.
Wednesday : Domme, Sarlat, St Cyprien, Ste Nathalène.
Thursday : Domme, Monpazier.
Friday : St Pompon.
Saturday : Sarlat, Belves, Le Bugue.
Sunday : Daglan, St Cyprien, Carsac Aillac.
The Gourmet markets of Périgord Noir.
The gourmet markets are a must in the summer season. It's not just a market but also a party and a moment of conviviality.
They are organized in the evening and invite you to eat local specialties on site. Most often they are accompanied by an orchestra and quickly turn into a giant dance floor.
You will only find local producers there, like at the Bouzic market. See you every Tuesday evening in July-August 5 minutes from the campsite. It is considered the largest night market in the Dordogne that can bring together just 1,200 people at the table. It's a guaranteed party time.
Monday evening : The Château des Milandes.
Tuesday evening : Bouzic, Villefranche du Périgord.
Wednesday evening : Belvès, St Geniès.
Saturday evening : St Pompon.